Alphorn & Nordic Winds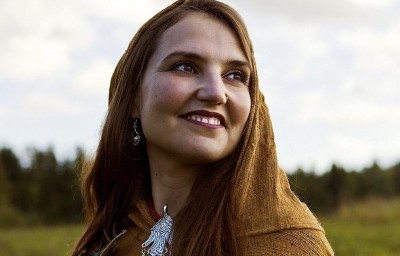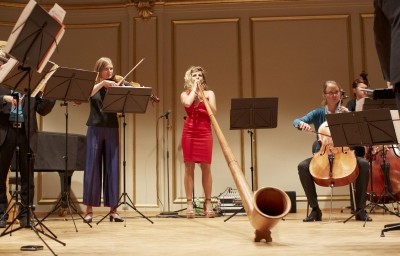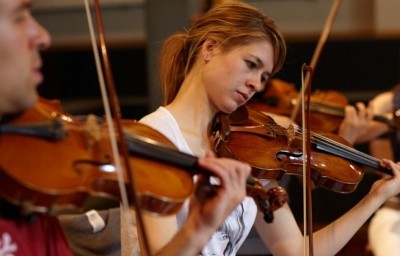 paul taylor orCHestra
Daniel Treyer, Concertmaster
Soloists 2017
Eliana Burki, Alphorn, vocals
Karoliina Kantelinen, singer, vocals
David Panzl, percussion
Corinne Kappeler, harp
Paul Wegman Taylor, director
Program
Concerto Grosso 2010 Timo Alakotila (*1959)
1.Ouverture
Concerto für Alphorn und Streicher Carl Rütti (*1949)
I Einleitung, Kadenz, Allegro II Ruhig frei; a tempo piu mosso, meno mosso, frei III Rondo
Karelian Echoes Trad./ Karoliina Kantelinen/ arr. Paul Taylor Joik Wedding Song; Wolf's Spell
Improvisation Solistinnen und Perkussionisten
Concerto Grosso Timo Alakotila (*1959)
5. Fughetto
Weltreise Suite Eliana Burki/ arr. Daniel Schnyder
Heiweh; Tango; Cairo
Nordic Winds arr. Paul Taylor
Min skog Trad. Swedish
Täss on nainen Sanna Kurki-Suonio
Tina vieri Sanna Kurki-Suonio
Program Notes
Eliana Burki, winner of the Prix Walo 2013 Swiss award for Jazz / Blues / World Music, has in very few years, catapulted herself with her Alphorns onto the world jazz and classical music stages.
Karoliina Kantelinen, the newest voice in the acclaimed Finnish Ethno Pop Group, Värttinä, has as soloist recently thrilled audiences in Berlin's Philharmonie with symphonic orchestra through her expressive and overtone rich singing.
With the musicians of orCHestra, Paul Taylor looks beyond the classical and modern concert horizon for fresh musical inspiration. Accompanied alternately by percussionists Lukas Mantel or Florian Reichle, the solo string ensemble with harp performs a fusion of modern classically composed music of earthy Finnish and Swiss folk origin, lush classic style jazz orchestrations, and jazz pop improvisations.
"Tango", "Cairo", "Homesick" all works by Eliana Burki are heard in symphonic arrangements by Daniel Schnyder. Karoliina Kantelinen interprets original Karelian Yoik, an ancient Wedding Song from White Karelia, and improvised/composed Wolf's Spell.
Ancient Runic song by Sanna Kurki-Suonio have become nordic classics, are arranged specially for orCHestra by Paul Taylor.
These compositions are framed by the original jazz-classical Concerto for Alphorn by Carl Rütti and the neo-Baroque Concerto Grosso for strings by Timo Alakotila. Concerto Grosso has, through our performances enjoyed a Swiss premiere. Both works draw strongly on modern folk or jazz elements.